Workwear leads to enormous quantities of identical textiles. The logistics around workwear can be an optimal starting point for nearly closed-loop material flows.
Instead of buying business clothing, resource-efficient use of materials may be supported by the business model of textile rent/leasing. DiTex therefore tests and evaluates three circular textiles made of recycled fibres as well as circular business models during an eight month test phase. The aim is to generate transferable knowledge for application concerning quality, resource efficiencies and sustainability effects.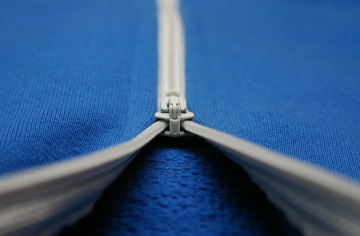 Circular product designs & tracking
Business shirt, polo shirt and bed linen are produced sustainably in this feasibility study. The product design already considers upcoming requirements for fibre regeneration.
In summer 2021, trial wearing starts at a selected police service (business shirt), rescue service (polo shirt) and in federal police accommodation (bed linen). Fixed points of distribution and return enable
well-organised logistics. For precise tracking, the DiTex textiles receive an "intelligent label". Material
properties and durability will then be examined and extensively tested, including but not
limited to laundry servicing and wearing tests.
The project aims for high-quality "closed-loop" recycling solutions by means of chemical fibre-to-fibre recycling.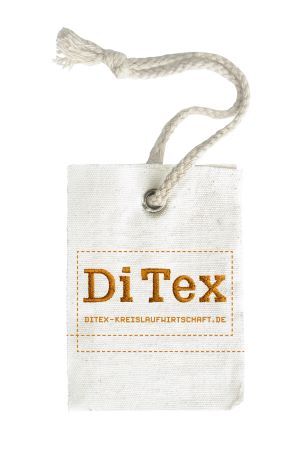 Results (Status June 2022)
A pool of materials – knowledge for a resource efficient, circularity ready B2B-textiles economy
Corporate garments pose opportunities for textile circularity: shared use, handling of large volumes of identical textiles with known composition, circular logistics during the use phase, economic interest in expanded product life span – all of these are vital parts of the successful business model of textile service providers. DiTex has developed three leasing textiles - optimized regarding circular economy principles - and piloted them in actual working environments. A polo shirt for paramedics (100% polyester rPET), a business shirt for police officers (62% controlled organic cotton / 38% polyester rPET) and a set of bed linen (50% lyocell, regenerated / 50% polyester rPET) were worn and rated by users during summer 2021 and spring 2022. Usage and care cycles were traced during the trial and accompanied by technological tests. All of the three textiles are recycled in innovative fibre-to-fibre recycling processes. The project aims at publishing three scalable circular product designs as well as accompanying knowledge in a 'pool of materials' in order to facilitate transfer of the project outcome into business practice.
Detailed product data sheets provide a basis for real-life-approved circular business textiles designed for existing recycling streams. Life Cycle Assessments of the DITex products and conventional products suggest that a lower environmental impact can be achieved by applying both circular and sustainability-aimed strategies: e.g. replacing cotton partly with polyester while making sure that product life span is optimized. Other central project results include a business model characteristic of textile service providers and their circular economy potentials, an analysis of potential rebound effects when exploiting these potentials and the role of digital strategies for achieving a resource efficient and circular B2B textiles economy.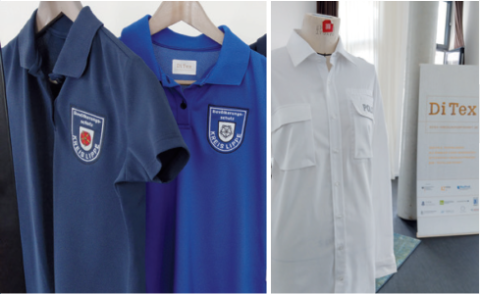 Focus on industry and application
The Institute for Ecological Economy Research (IÖW) coordinates the network; manages the process- and cost analyses and conducts the market dialogues as well as the evaluation of the eight-month pilot phase. All partners are involved in the product design and market dialogues. WILHELM WEISHÄUPL e. K. and Dibella GmbH take over upscaling and test production of the textiles. As a service provider, circular.fashion UG contributes IT solutions and know-how. The Hohenstein Institut
für Textilinnovation gGmbH and the Faculty of Textiles and Design at Reutlingen University are responsible for textile testing and the product specifications for the rental textiles. The ifeu – Institute for Energy and Environmental Research prepares overview Eco balances. As an associated partner, MEWA Textil-Service AG & Co. Management OHG supports the acquisition of large-scale consumers as test users of the textiles and the testing of the rental or leasing business model.
Central outcomes of the project: Preparation of a broad collection of materials offering the know-how required for a change to recyclable sustainable workwear.
---
Publications
Fact Sheets from the DiTex-Projekt (2022)
Prototypes of recyclable textiles (12/08/2020)
Integrative Research Report 2021
Article in 320° Magazine (04/07/2020)
Project flyer of the funding measure (German / English) (March 2021)
The project flyers offer an insight into the contents and goals of the ReziProK projects and present first results in each case.
Project sheets of the funding measure (German) (September 2019)
The project sheets provide a brief overview of the individual projects and their goals.
Contributions to the ReziProK Transfer Conference in June 2022
Poster (German) (June 2022)
Presentation (German) (June 2022)
Contributions to the ReziProK Kick-off event in December 2019
Poster - in German (December 2019)
Presentation - in German (December 2019)
Picture credits: Markus Hein/pixelio.de; Bruno Glätsch/pixabay; IÖW