In UpZent the approach of the Upcycling Centre is transferred into a transferable business model and tested at several locations. Suitable forms of organisation are being investigated for this purpose. The aim is to work out a business model for a resource-efficient circular economy around the topic of upcycling in order to establish a socio-economically sustainable structure. The production of upcycling products and the sensitisation of interested stakeholders are to contribute to a resource-efficient circular economy.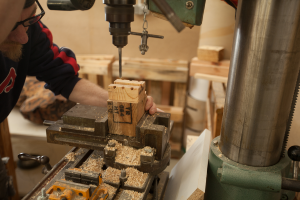 Cycle at regional level
The project leader, the Trier University of Applied Sciences /IfaS, has been operating an upcycling centre since 2016 as a project for circular economy, qualification and integration, which is being implemented in the district of Neunkirchen (Saarland) on a non-profit and value-added basis. In the project, furniture, products and everyday objects are designed by product designers and produced by an employment company as part of qualification measures. In the sense of a resource-efficient circular economy, the aim is to establish a sustainable cascade through the conversion and upgrading of commercial waste materials at regional level on a permanent basis and in dialogue with companies, recyclers and consumers.
Economic model
Upcycling implies cycle-oriented and intelligent product designs, choice of raw materials, and production and reuse processes. This in turn requires trans-sectoral cooperation between different actors along the entire product life cycle, from product design and manufacture to use and recycling. The concept of the Upcycling Centre, which has already been developed and tested by IfaS, is based on a sustainable education strategy of the participants and supports their networking. The further development of the Upcycling Centre into a self-supporting business model enables transferability to other regions and can promote the system change towards a circular economy in Germany.
Research questions that are being addressed in this project are:
Is it possible to jointly use economies of scale and standardisation so that a model can be organised in an economically viable manner?
Is it possible to influence product design, production or the reuse of materials via an upcycling centre?
What contribution can this instrument make in terms of the EU objective and taking into account the waste hierarchy in regional as well as decentralised structures?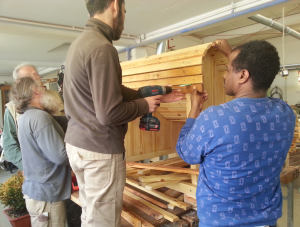 Project team from research and companies
The project pursues an inter- and transdisciplinary research approach with high practical relevance. Therefore, in addition to the two university partners, the Trier University of Applied Sciences and the Saar University of Fine Arts, three upcycling centers are to be integrated as practice models and research platforms. Furthermore, the manufacturing industry and the waste management sector will be integrated. In order to ensure that the project is processed efficiently and effectively, the upcycling centre already established in Neunkirchen and its corporate partners will act as a best practice model. The second project partner is also a non-profit organisation in the Aachen region, which has been planning to establish an upcycling centre for some time. The third location will be found during the project period.
The project team aims to develop the success factors for transferability. Essentially, these are suitable instruments and standardisation as well as the selection and design of a long-term sustainable business model and its configuration.
The research results thus enable interested parties to implement innovative and economically viable product cycles or cascade systems and to organize themselves within a network in such a way that economies of scale and synergies can be tapped.
Picture credits: © Upcycling-Zentrum
---
Publications
Project flyer of the funding measure (German / English) (March 2021)
The project flyers offer an insight into the contents and goals of the ReziProK projects and present first results in each case.
Project sheets of the funding measure (German) (October 2019)
The project sheets provide a brief overview of the individual projects and their goals.
Contributions to the ReziProK Kick-off event in December 2019
Poster - in German (December 2019)
Presentation - in German (December 2019)